3 Additional Reasons for comfortbilt's high pellet stove Rankings
In this blog, we'd like to explore 3 additional reasons why Comforbilt pellet stoves consistently achieve such high ratings. If you currently own a Comfortbilt pellet stove or pellet stove insert you can confirm that the reasons outlined in the blog are valid. For those that don't yet own a Comfortbilt pellet stove, pellet stove insert or wood stove, this blog should be a bit of an eye opener. The Comfortbilt team is proud of the high ratings our pellet stoves, pellet stove inserts, and wood stoves have received, so we are thrilled to continue with this series of blogs. Let's get into it!
1. Knowledgeable and Timely Customer Support:
As we've been selling pellet stoves for over 10 years, things will inevitably deteriorate and need to be replaced. We pride ourselves on having a robust and extremely helpful Technical Support Team. We have built a well rounded ecosystem that includes support via phone, ticketing system, Facebook page, knowledge base, live chat, FAQ's and several other resources for our customers to troubleshoot and get their pellet stove running and keeping everyone comfortable.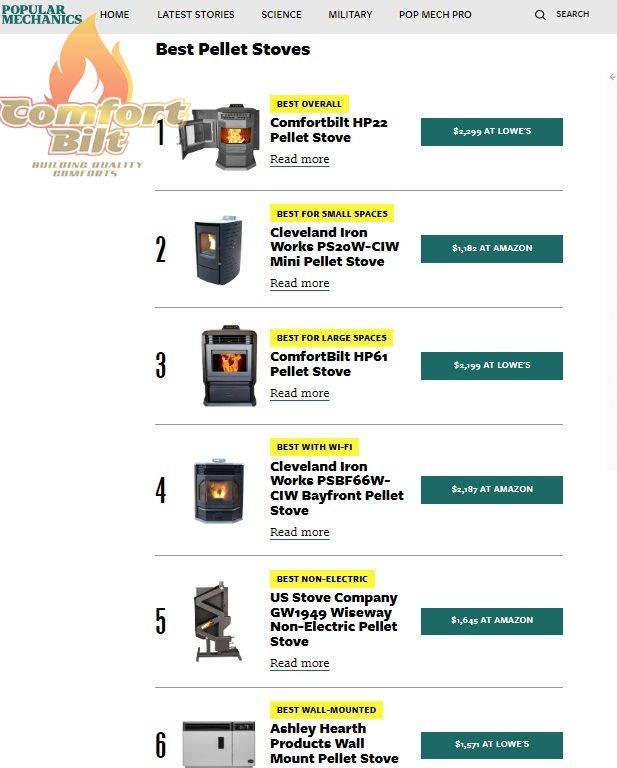 3 out of the top 7 pellet stoves selected by Popular Mechanics as "Best pellet stoves to Help Save You Money on Heating" were made by Comfortbilt. HP22, HP61, and HP22i pellet stove insert.
To view the article CLICK HERE
2. Operators Manuals Are Written In-House:
We've frequently received feedback from our customers raving about how well written and detailed our pellet stoveowner's/operator's manuals are. We put a lot of work and resources into making our pellet stove and wood stove manuals thoroughly useful. As our pellet stove and wood stove manuals are written in-house, by the people that support our pellet stoves, this ensures the topics covered in them are germane to a new or seasoned pellet stove, pellet stove insert and wood stove user. We are certain you will find our pellet stove insert manuals supremely helpful!
3. Superior Selection:
The variety of pellet stoves, pellet stove inserts and wood stoves offered by Comfortbilt is 2nd to none. We know pellet stoves, and we know our customers well, so we constantly aim to give customers multiple options. We're confident that one of our models will be perfect for any application (site and link some models). When you put the customer in the right heating solution for their needs, you set yourself up for exuberantly positive ratings.
For more information on ComfortBilt pellet stoves Click Here
For more information on ComfortBilt wood stoves Click Here
For more information on ComfortBilt pellet stove inserts Click Here